God Talked Me Into It... and I'm glad he did!
Posted 06-09-2011 at 01:37 PM by
Trud
---
I am on vacation this week!
Translation:
I am being very lazy this week.
At the beginning of the week, I had all these plans of cleaning and organizing and getting extra things accomplished and
"ZIIPPPP!"
All those plans flew right out the window!
Yesterday morning, I walked out on the deck about 6:30 - (I am a nightshifter, and my sleep is allll out of whack this week.) and I saw this: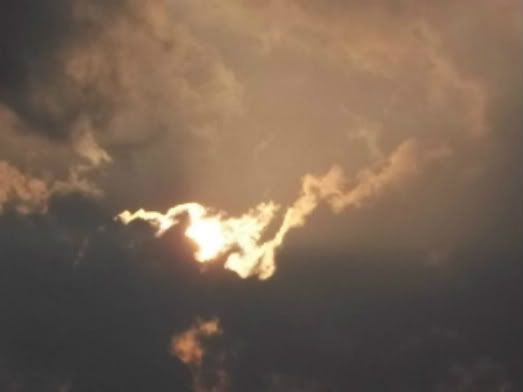 Can you see the two horses in the brightly lit part?
I thought about going out on the bike trail, but after considering how much effort that would take, and how lazy I felt, I decided not to. I went back inside and piddled around and a few minutes later I looked out the kitchen door to see what the sky looked like. I saw a deer in the field, and had to take some pics of it.
I didn't get a pic of it, but I also saw a bluebird swoop down and land on a piece of farm equipment our neighbor had parked next to our yard. I love bluebirds, but hardly ever see one.
"Ok, I get it!"
It was like God was saying, "I know you are on vacation, but quit being lazy and get out here and enjoy all this beautiful stuff I am giving you this morning!!"
Fifteen minutes later, I had the bike loaded in the truck and was heading for the trail. The trail is an awesome place. It is bordered by the river, farmland, woods, and small communities. There are all kinds of trees and flowers, interesting swampy areas, and animals to take pics of. I've seen deer, frogs, cows, donkeys, horses, birds, rabbits, groundhogs, Canadian Geese, and even a beaver once. Its one of my favorite things to do, going out there to explore. Nature is such a gift from God.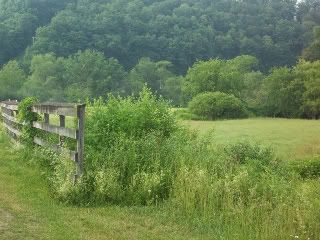 I rode for close to two hours. Not non-stop; I'm not in that good of shape!! I stopped alot for photo ops. The air was still fairly cool, but you could feel the humidity starting already. (Later in the day it was in the low 90's.) The air felt so good and it smelled so nice it was like I couldn't breathe enough of it in.
I took pics of flowers.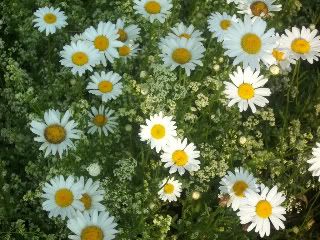 And cows.
And the river.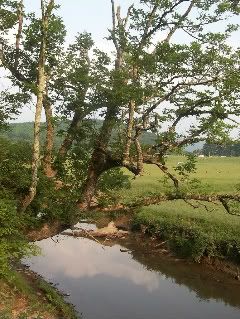 And a cow in the river...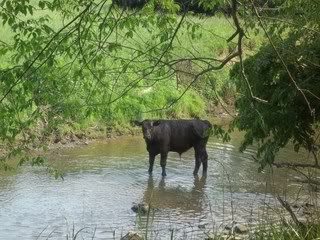 I saw flowers I knew...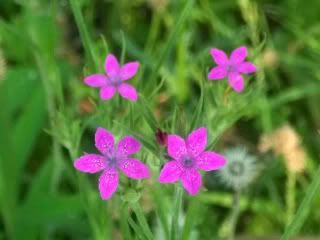 Magentas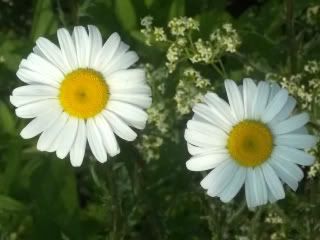 Daisies
And some I didn't...
Interesting trees...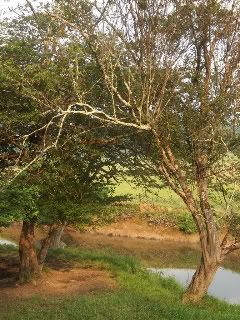 And a frog...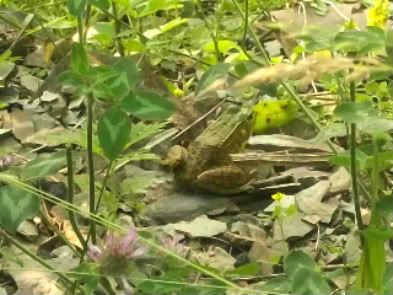 Last time I was out there I saw a pretty gray and white cat. It wouldn't let me get close enough to take a pic of it. Yesterday I saw this same kitty, only this time she had her kitten with her!
I saw over twenty Canadian Geese in the field. I saw small darker shapes moving which were the baby geese, but I couldn't get close enough or zoom in enough to get a good pic.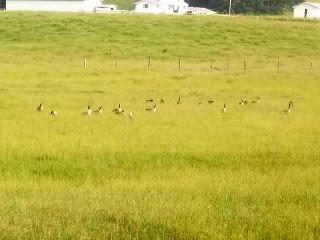 It was just such a good experience and I took alot of great pics. I thank God for blessing me with such a beautiful place to enjoy. He talked me into going out there yesterday, and I'm sure glad he did.
Views
4860
Comments
1
Comments
Posted 06-09-2011 at 08:08 PM by

gma2rjc