I have a favorite pizza dough that I use all the time for everything. It makes fast easy pizza, calzones,dinner rolls, cinnamon buns...This morning for breakfast I needed something the kids could eat on the go so I rolled out the dough added some scrambled eggs and cheese and rolled the doll kinda like an egg roll. I don't have pics of those because I was in a hurry and too tired to even think of taking pictures
Now I always try to make extra dough. So for lunch I make pizza rolls. I added sauce, cheese, veggies and really anything I have in the frig. My kids aren't too picky.
This is the finished pizza roll. I initial them with sauce because each child wants a different filling.
Here is the dough recipe that gives direction for plain pizza. Now you never need to order out again
:
1 (.25 ounce) package active dry yeast
1 teaspoon white sugar
1 cup warm water (110 degrees F/45 degrees C)
2 1/2 cups bread flour
2 tablespoons olive oil
1 teaspoon salt
Directions
Preheat oven to 450 degrees F (230 degrees C). In a medium bowl, dissolve yeast and sugar in warm water. Let stand until creamy, about 10 minutes.
Stir in flour, salt and oil. Beat until smooth. Let rest for 5 minutes.
Turn dough out onto a lightly floured surface and pat or roll into a round. Transfer crust to a lightly greased pizza pan or baker's peel dusted with cornmeal. Spread with desired toppings and bake in preheated oven for 15 to 20 minutes, or until golden brown. Let baked pizza cool for 5 minutes before serving.
Here is lo adding the filling. She wanted cheese, sauce and eggplant. Bake in a hot oven until golden brown. I bake them at 500 and keep a close eye on them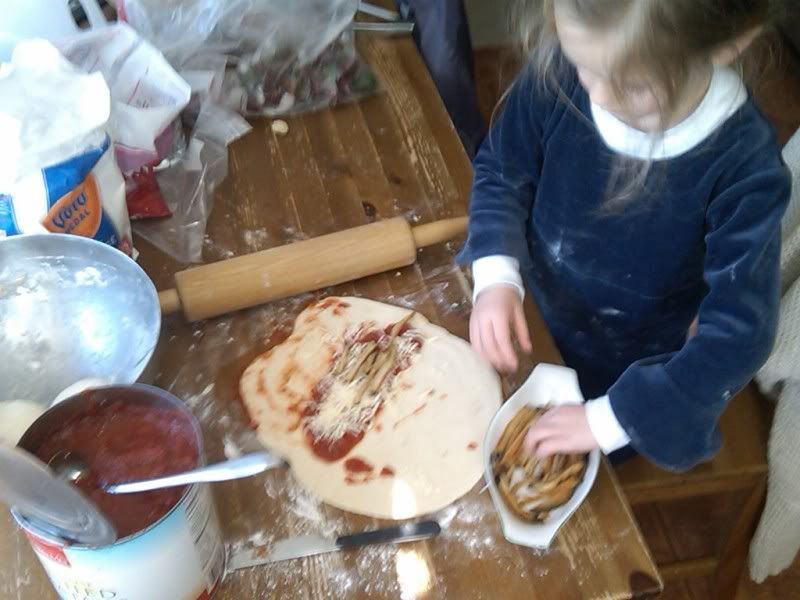 Extra dough made cinnamon buns. Cinnamon and sugar are sprinkled on the rolled out dough. Add little pieces of butter.
And roll it up
Cut into pieces. Put cut side up on parchment covered cookie sheet. Bake 375 for about 12-15 min.
Enjoy!